New Moons, in general, are a perfect opportunity to plant seeds, set clear intentions about what you want to create and get the energy ready for manifestation. This one is no exception. However, the cancerian energy that adds up to this new moon and all other celestial events are contributing to the energy waves we are flowing through right now.
What I feel when I tap into the collective energies is first and foremost deep emotional healing. This emotional healing has many branches, it's complex and very unique to each individual. It splits into many themes that are being played out now and in the next few months as well in order to be transformed. We've reached a point in our ascension where transformation and transmutation of major individual and collective dysfunction happens smoothly and easily. A lot of this dysfunction goes way back and many of it have been stored in the cellular memory, which is why it might be quite challenging.
This might look a bit like the karma many people are talking about, except karma as a concept is an old paradigm program. In truth, it is just the Illusionary/dualistic energy being brought up to the surface as a result of increasing higher vibrations, in order to be transcended into the highest light. Spending more time with yourself and doing a more inner work than usual might be the case. We are recalibrating.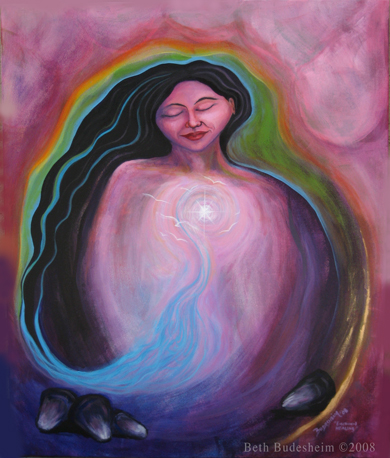 "Emotional Healing" - http://www.paintedjourneys.com/
Since many of the planets are in retrograde, a lot of self-mastery is going to be needed and integrated in our beingness, especially in our relationships with others. Observe your reactions and try to turn them into responses. Respond with love always. Deeper levels of self-mastery that involves compassion, self-love, understanding and forgiveness are to be learned as we overcome the challenges that we find on our path. We are the ones creating them as from a higher perspective they are great opportunities for expansion and accelerated growth.
In terms of Soul purpose, some connections will strengthen, some people will leave our space for new ones to come. Partnerships will be created that benefit all and they will be the catalyst of great changes. People are working on different levels and on different facets of the divine plan, but at this time collectively we work on project Freedom and all that represents. Freedom means different things  to everyone and has many aspects itself, but in essence at this time, it is all about freedom of being. More people are beginning to vibrate at that frequency and as a result of that, many things are changing in the outer world. You can see it all over if you pay attention. I will expand into this specific subject – freedom – in an article soon.
With all that being said, try as much as possible to not focus your attention and energy on supposed outer events that are placed in the future at specific times, as this robs  you of the joy of the present moment, it doesn't accomplish anything and it is a waste of energy. Nothing truly happens outside of yourself, no event happens without you creating it. Patience is required and when you are present in the Now, patience comes naturally.
" A waterfall of rainbows where there's not a lot to do, may seem as if it's standing still, even though it's really moving too. "
Thank you for reading,
Love and Light,
Eddie